Young Ghanaian Innovator awarded the Queen's Young Leaders Award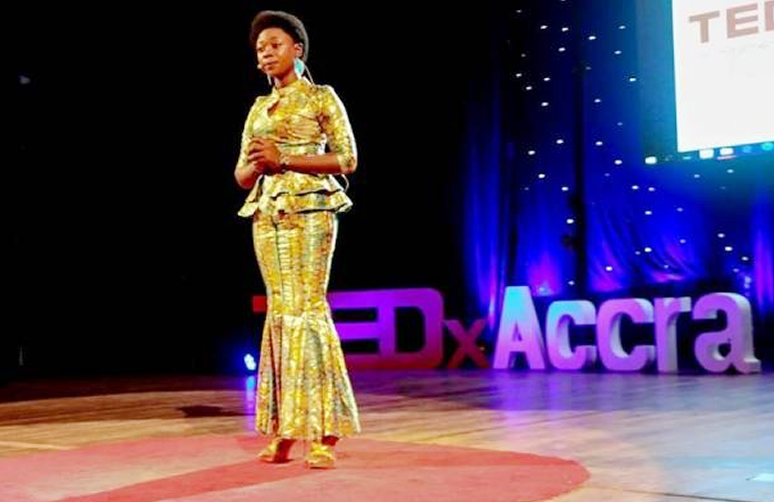 The Co-founder of Ghana Bamboo Bikes Initiative and the President, EPF Educational Empowerment Initiative, a charitable project dedicated to promoting education in Ghana, Winnifred Selby has won the Queen's Young Leaders Award for 2017.
The Queen's Young Leader Award recognises and celebrates exceptional people aged 18-29 from across the Commonwealth, who are taking the lead in their communities and using their skills to transform lives.
Miss Selby, an alumina of Cambridge University Leading for Change Executive Education and Fellow of the Royal Commonwealth Society, is a multi-talented young social entrepreneur who has been dedicating her life to the economic empowerment of young people in Ghana.
She has created a team of dedicated young social entrepreneurs and supporters who work together to overcome daily challenges and who create new commodities and markets for young people.
She has consistently demonstrated her personal value of making a difference by using her talents to help others and her passion for empowering young people to be successful.
Winnifred has traveled extensively worldwide and has shared platforms with notable international figures such as the Queen of England, former UN Secretary General Ban Kin Moon, Former British Prime Minister John Major and Deputy Ruler of Dubai who presented the Dubai International Award to her in February 2015.
She is an Anzisha Prize Fellow, World Economic Forum Global Shaper and was recently featured in Forbes as one of the social entrepreneurs in Africa to watch having earlier won the prestigious World of Children Award in New York and the 2016 New African Woman in Science, Technology and Innovation Award.
Among her involvement in numerous enterprises, she also sits on the boards of the Dawadawa Impact Investment Fund and the SHE Scholarships Fund of the EPF Educational Empowerment Initiative.
She was among 60 exceptional young people, from across the Commonwealth, who received the award from Her Majesty the Queen, at the Buckingham Palace, in the UK.
Winners of this prestigious Award will receive a unique package of training, mentoring and networking, including a one-week residential programme in the UK.
With this support, Award winners will be expected to continue and develop the amazing work they are already doing in their communities.
Source: http://thebftonline.com
MEDIA CENTRE related